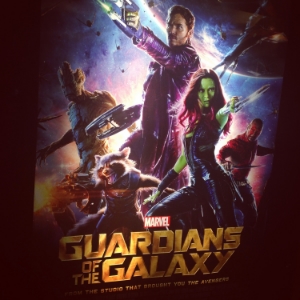 This past Monday night was a fun night for me and my daughter, MeiLani. I was invited to attend the Guardians of the Galaxy sneak peek, my first press experience after the amazing time at Disney Social Media Moms. I was pretty stoked to have the opportunity. Sure, it was only 17 minutes long, but it was intense and left both of us anxious for the full movie! It was comedic, action packed and the 3D just added to the awesomeness.
This event was open to the public, the line wrapped around the inside of the theater and to the front door; As press, we had reserved seating and it was awesome. We just checked in with my name, got our awesome Guardians poster and grabbed a snack before waiting to enter the theater.
Want to see an extended peek? Check it out below!
Guardians of the Galaxy hits theaters on August 1, 2014!
Follow Guardians of the Galaxy!
Website and Mobile site: marvel.com/guardians
Like us on Facebook: facebook.com/guardiansofthegalaxy
Follow us on Twitter: twitter.com/GuardiansGalaxy
xo, Spread Magic!