I LOVE a good bag. It could be a hand bag, tote bag, clutch, satchel, and even back pack! Let's be honest, I have a lot of things. My friends can attest that I am the "prepared" one and if you need anything, I probably have it in my bag!
I thought it would be fun to gather a list of some of my top bag styles I'm eyeing for the fall for both work and play. I created these sets with Polyvore, and everything seen in my set, within this post are under $50. I like a good deal, what can I say?! 🙂
Casual Monday Meeting
When I meet with clients I dress business casual. I always love throwing on a bit of Disney magic and then dressing it up! This awesome tote will fit my MacBook Air, notepad, and my life essentials! If I need more space, I can unzip the sides of the bag and if I want a more square look, I can zip it right up!
Too Cool for School
So take it to Disneyland! Just because you're a student doesn't mean you can't have some cool class with your backpack! My favorite detail feature of this VANS backpack is the trim! This backpack would also be amazing for a trip to Disney Parks! Just think of all the pins you could add to it. Not to mention the room available for souvenirs, a sweater and leggings to throw on in the evening… or if you happened to get soaked on Splash Mountain – you'll be good with a spare change. Going back to school doesn't have to be a drag.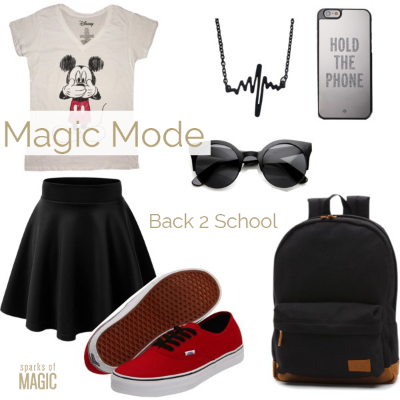 Make it a Date
Heading out for a date night means I bust out the fancy. Comfort is always key for me, even if I choose to dress up. This faux crocodile print bag adds some strength to a fairly feminine outfit. I could easily fit my iPad, a light sweater, bottle of water, and my everyday essentials in this handbag.
---
I don't know about you, but I love to switch up my bags with my mood. It also depends a lot on what my plans for that day are, and if I'll need extra space for things. If I am with my kids, I almost always have a big "mom" bag. But switching it up for a smaller one for date nights are great, unless we go to the movies and I need to bring gluten free snacks. 🙂
How about you? What's your favorite type of bag?