When you think of the hustle and bustle of everyday life, it's always nice to have a night out with the family, especially when you know that you won't be spending a ton of money! I made a plan to budget some money for a family dinner night at Denny's, with a goal of spending less than $25 before the tip, for all of seven us.
Sounds impossible, doesn't it? But I'm happy to report that not only was it possible, three of us even ended up eating off the regular menu, not the $2 $4 $6 $8 Value Menu! Every family is different and you must take into consideration any food allergies, or picky eaters. But once you get that squared away, it's pretty easy! Here are four easy tips on making your dollar stretch when you want to eat out at Denny's.
1. Find out when your local Denny's has "Kids Eat Free" night.
Our Denny's "Kids Eat Free" night is on Tuesday nights from 4 pm – 10 pm. The requirement for kids (13 and under) eating free is that one (1) adult purchases an entree $4 or more. Their meal does not include drinks. And the adult entree order can be from of the $2 $4 $6 $8 Value Menu.
You should also know that one adult entree entitles ALL of the children in your party to eat for free; this is the real deal, not a one-for-one special that many other places have. Obviously, since our kids outnumber us by 3, it's really nice and budget-friendly.
2. Plan your meal ahead of time with the kids.
Because I was challenging my wallet, I wanted to make sure there were no hiccups or "add ons" when ordering. This means, our kids didn't order drinks, just had water. I know, terrible, right? They're used to it because we typically don't drink soda or juice at home. Every once in a while they'll get a Shirley Temple or hot cocoa when we eat out, but that is not often.
They also understood that they couldn't add a million extra sides to their meal because each one costs extra. Instead of each of them tacking on french fries, we just ordered one big side order for $2 and they shared it. I should have clarified with our server if their extra sides were covered, but forgot to ask.
Having your kids be part of the challenge is also fun because they try to figure out how much they can eat, or order within that monetary amount. You help them become decision makers and understand the value of money and what it can or can't buy. Luckily, for us, we ate when they got free meals, so ultimately it didn't matter as long as they ate from the kids' menu.
3. The $2 $4 $6 $8 Value Menu
For the kids that don't get enough in their tummies off the kids' menu, you can order from the $2 $4 $6 $8 value menu. My eldest (14) ordered the $6 Eggs in a Basket and she had so much food, she ended up bringing her hash browns home. When we realized the kids would eat for free, my husband and I deviated from ordering from the value menu, mine for allergy reasons; him, because he really wanted the Super Bird ($9.69) sandwich, haha.
You should also note that when you order from the value menu there are no substitutions, not even for allergy reasons. I think that is something they should consider in the future, considering the price of the gluten-free english muffin is the same price as the side of toast slices they'd use for the sandwich. In the end it didn't even matter because they were out of stock on the bread (even after calling ahead of time to confirm they had some), so I just ate chicken sausage, egg whites, and hash browns.
Here's a glimpse at the menu, there is a lot that you can choose from and even if your entire family at from the value menu you can still save!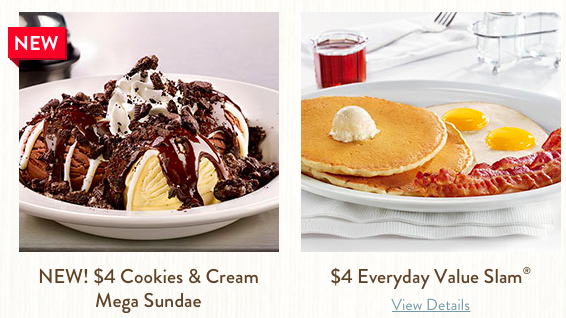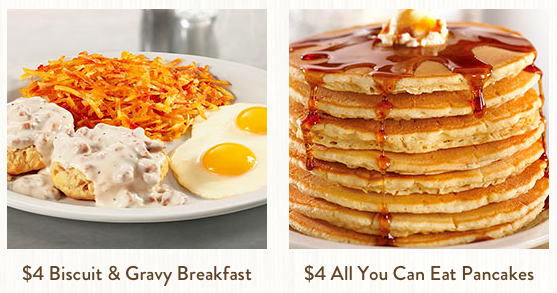 4. Use coupons!
Denny's often does advertising through coupons in the paper or daily mail. Additionally, make sure to sign up at Dennys.com for rewards and you get a 20% off coupon. Since we recently participated in the Denny's No Kid Hungry initiative, we had a $5 off $20 coupon which came in handy for this trip.
Okay, so our grand total (not including the tip) was $24.04! That's pretty awesome for feeding all seven of us!
The kids are excited about the new holiday menu, including a holiday spirited milkshake and Rudolph pancakes! Stay tuned for our next adventure! 🙂
---
This is a sponsored conversation through my partnership with Denny's. All opinions shared are mine and hopefully added some magic to your day!