I knew that Big Hero 6 did not have a "sing-a-long" emphasis, and that I would be in for an action-packed adventure with my family in San Fransokyo. What I didn't know, was that amidst the action, fighting for justice, and seeking revenge, I would be presented with raw emotion, loss, sheer happiness, and seeing a little bit of myself within the scenes of the movie. I mean, this film was amazing, family-focused, and inspiring. My kids and I were pumped up after this; we left feeling like our own special group of heroes. So, as I collected my thoughts, I realized there are some neat lessons from Disney, including new perspectives from the film. Perhaps you saw (will see) them, too?
Family Comes First
I have to admit, this might seem obvious, but it's a theme that's sprinkled throughout the legacy of the Walt Disney Company. It's a deep-seeded value that I appreciate as a mommy, and like most, have come to expect to see this whenever anything is released from within those creative and magical doors.
What I love about the idea of "family," is that it is not always a typical home-unit. Disney has a way of embracing the family of friends, co-workers, and even strangers… it's about humanity. The main character, Hiro (Ryan Potter), learns throughout the film that family should come first. I won't lie, just thinking of the tragedy and triumphs this kid faces brings tears to my eyes again. Thankfully, they don't let you cry too long, because in a split second you can't help but literally laugh out loud at the crazy antics that ensue. My kids learn so many lessons from Disney because of the amazing storytelling. Our kids were able to relate to the relationship of the brothers, and seeing the importance of telling each other how much they care.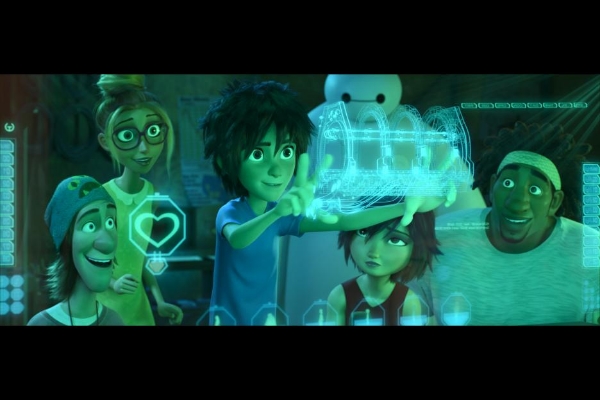 Friends Come in All Sizes
Meet Baymax (Scott Adsit). He is an unlikely friend for Hiro, as you'll see in the film. But nonetheless, they become inseparable. Their relationship and conversations will have you in tickles. Let's be honest, Baymax is a robot, but he is so much more than that! On a scale of 1 to 10? TEN!
Honey Lemon (Geneis Rodriguez), Go Go Tamago (Jamie Chung), Wasabi (Damon Wayons, Jr.), and Fred (T.J. Miller). You'll see in the film how Hiro befriends this eccentric group of science buddies and it's very warming. When he needs them, they are there. Even when he thinks he is fine, they are there. Those are real friends and while they have the genius smarts in common, they are all so very different. It's really neat to see how they work together and learn from each other.
I am super grateful for my little circle of friends. We definitely have very different outlooks on life, varying tastes in music and film, and I probably am the only one (aside from my fabulous Disney blogging friends), that would even dare to go to Disneyland by myself, let alone wear my Minnie ears outside of the Parks… at my house… just, because. But that's what I appreciate about my friends. We learn from each other. We encourage each other, and hopefully we aren't all going crazy at the same time, so we can offer sane support and love to each other during the rough patches in life.
Let Love In
When you're hurt, it's not easy to let others in. We've all been there before, right? Hiro faces a tragedy that really just causes him to shut down. The realness of his situation is gripping, and I realized how easy it is to forget that we need a support system when we need it most; we need to remember to let people in. I find that this theme of letting people love you is one of the lessons from Disney that we see throughout the film. With strong characters, we are reminded that they, too, need to feel loved and sometimes it's about allowing love in.
I really love the relationship that Hiro has with the other characters in the film. They were there when he needed them, and vice versa. I chatted with my 12 year old, and she shared her thoughts on being a friend. She told me that sometimes we need our friends to remember what will make us smile. Isn't that so true? We shouldn't shut out those that will help us. Remember, if you're hurting, it's okay to reach out to someone you trust. Likewise, open your heart when they are trying to help you and be a friend to others.
Look Beyond Your Problem
In a significant action scene, when the odds are stacked against them, the heroes are reminded by Hiro to look deeper into the problem to get a solution. Now, I'm not quoting Hiro for the sheer fact that he said it better, so go see the film. But, he is right. Many times, we come into a situation that we feel stuck in. Instead of panicking and giving up, we need to step back and look at the problem, look at our resources, and breath. What is it that can help offer a resolution? Sometimes, just looking for a different perspective will shed light and offer success in overcoming! It's awesome when the Big Hero 6 team solves their problems and they have fun doing so!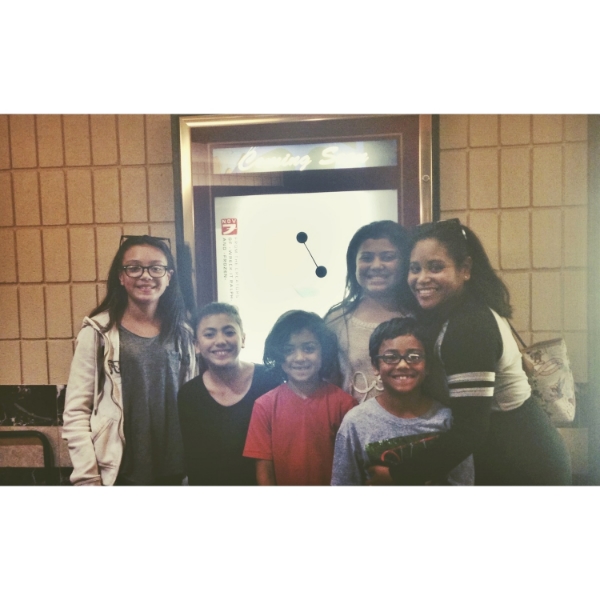 HAVE FUN!
Don't let the stresses of everyday overwhelm you. I know, easier said than done (I'm working on heeding my own advice). However, these kids LOVE what they do and they have so much fun! Sure, they're encountering dangerous circumstances, but they are up for adventure and having fun. Laugh, dream, explore, create.
While we might not be suiting up for serious superhero action anytime soon, we can definitely enjoy the journey in life with our own families. These lessons from Disney are great reminders for us, and our kids.
OKAY, so… are you ready? Plan a family date and go see Big Hero 6! You won't regret it. It's pretty sick! 🙂 Relax, it's just an expression… Then head back to the blog and let us know what you thought and what lessons from Disney were learned!
ABOUT BIG HERO 6
From Walt Disney Animation Studios, the team behind "Frozen" and "Wreck-It Ralph," comes "Big Hero 6," an action-packed comedy-adventure about the special bond that develops between Baymax (voice of Scott Adsit), a plus-sized inflatable robot, and prodigy Hiro Hamada (voice of Ryan Potter). When a devastating event befalls the city of San Fransokyo and catapults Hiro into the midst of danger, he turns to Baymax and his close friends adrenaline junkie Go Go Tomago (voice of Jamie Chung), neatnik Wasabi (voice of Damon Wayans Jr.), chemistry whiz Honey Lemon (voice of Genesis Rodriguez) and fanboy Fred (voice of T.J. Miller). Determined to uncover the mystery, Hiro transforms his friends into a band of high-tech heroes called "Big Hero 6." Inspired by the Marvel comics of the same name, and featuring breathtaking action with all the heart and humor audiences expect from Walt Disney Animation Studios, "Big Hero 6" is directed by Don Hall ("Winnie the Pooh") and Chris Williams ("Bolt"), and produced by Roy Conli ("Tangled").
Like BIG HERO 6 on Facebook
Follow Walt Disney Animation Studios on Twitter
Follow Walt Disney Animation Studios on Tumblr
Visit the Website